Snorkeling + Clear Seethrough Kayak + Stand Up Paddle
Enjoy 3 different activities in this exclusive package! We provide you with 3 totally different ocean experiences - snorkeling, clear see-through kayak, and stand up paddling. Enjoy viewing the ocean from the ocean's surface with your snorkeling gear to get a clear view of what's below! Take a ride on our see-through kayak which is a kayak made of special material so that you can see directly through the kayak and what's underwater! Our stand-up paddling is another way to utilize a surf-board with ease!
E Sea Rider Honolulu, HI
60' cruise ship that has been retrofitted into a one of a kind diving and water adventure sport vessel. Capable of carrying 77 passengers, and can be operated with a minimum 3 man crew. We offer Scuba Diving tours, as well as the BOB Underwater Scooter, which is rapidly becoming popular with the non- diving community. We also offer snorkeling adventures, as well as glass bottom kayak, and stand-up paddle boarding.
On Board the lower cabin
Inside the lower cabin, we have a small galley where we offer coffee, and refreshments to our guests. Additionally, most of our gear is stored in under bench cabinets, as well as wetsuits and regulator storage hung neatly along the aft wall. The Dive briefs are conducted here, as well as fitment for wetsuits.
The Aft Lower deck provides the dive staging area
With enough SCUBA gear and space aboard the E Sea Rider, she can accommodate up to 14 divers at a time. When fully loaded she can carry over 50 cylinders to allow for hours of diving in a single trip.
Aft dive platform, and heading upstairs to the second level.
A dedicated dive platform makes giant- stride entries safe, quick, and easy. Heading upstairs from the diver staging area is an additional 26 passenger seating area, and the Captain's Wheelhouse. Refreshments are also served here, and guests are given Boat briefings, and provided the relevant information for their adventure with us.
Second level
Upstairs, emergency life jackets are stored neatly under the bench seating. The Dive Flag is displayed off the stern of the ship.
Men's and women's marine head
Located on the lower level, we have both men's and women's marine heads to accommodate our passengers (not pictured: hot water shower)
Safety equipment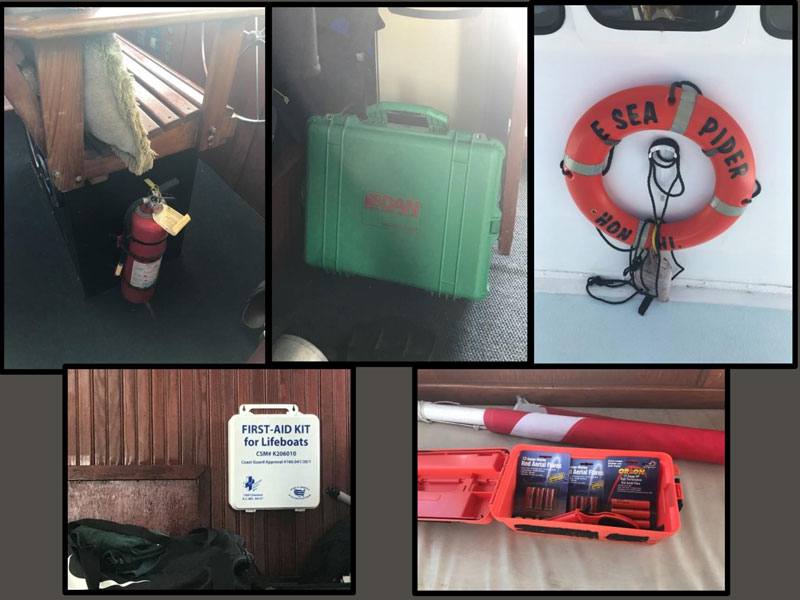 Fire extinguishers and life rings located throughout the ship. There is also a DAN emergency O2 Kit, as well as several first aid kits.
Safety equipment
In the unlikely event they are needed, life rafts are located on top of the Captain's wheel house.